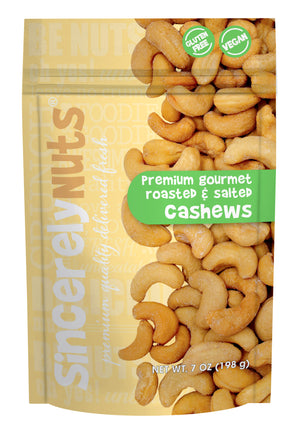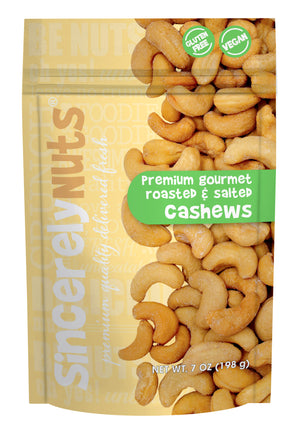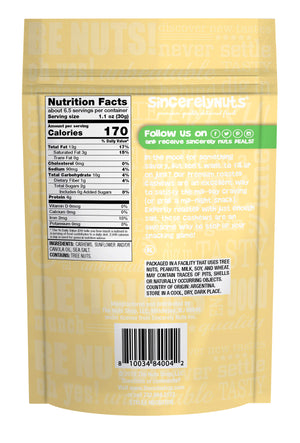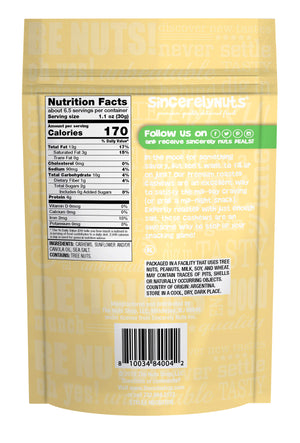 On Sale
Roasted & Salted Cashews 7 Oz. (12 Pack)
Cashew Roasted and Salted
These roasted and salted whole cashews are a classic snacking staple that deserve a spot in your pantry. Freshly roasted and lightly salted to complement the buttery flavor, these salted roasted cashews make for untold scrumptiousness that will spruce up any occasion. This tastiness is flanked by a nutritious mix of vitamins, minerals, fiber, antioxidants, and healthy fatty acids. Whether you buy a cashews bulk roasted salted case or grab a single bag, you'll enjoy unmatched freshness courtesy of the carefully sealed bags.
Adding Roasted Salted Cashews to Your Kitchen Routine
The ways to use cashews in the kitchen are nearly endless. They're best known as a terrific snack food, of course, and you can mix them with dried cranberries, pumpkin seeds and chocolate chips for a yummy trail mix that offers the perfect balance of sweet and savory.
Salted roasted cashews also make an excellent addition to any style of stir fry. Their saltiness perfectly balances the earthy taste of meat or tofu. These nuts also pair well with vegetables, especially when you douse them in soy sauce and turn up the heat.
Others prefer their cashews complementing the dairy family, such as by:
Chopping up a handful of nuts and sprinkling them on yogurt for a satisfying mid-afternoon mini-meal

Putting chopped cashews on an ice cream sundae instead of peanuts

Indulging in cashews and a few slices of cheese
This massive dose of protein and healthy fats will keep you fueled through the evening.
Health Benefits of Cashew Nuts
1. Circulatory Health: Roasted cashews salted contain high servings of copper and iron, which promote the production and utilization of red blood cells. This ensures proper deliver of oxygen to the tissues, effectively fighting against lethargy. Cashews also contain arginine and vitamin K, which protect the inner arterial lining and ensure healthy clotting of blood respectively.
2. Lower Cholesterol: According to the Iowa Women's Health Study, a diet rich in nuts can lead to lower levels of LDL (bad) cholesterol. This is a result of monounsaturated fatty acids, which make up 66% of the total fat content in cashews salted roasted. The presence of antioxidants also contributes to heart health by preventing the oxidation of LDL, reducing the development of atherosclerosis.
3. Regulates Blood Sugar: Roasted and salted cashews are rich in magnesium, with a quarter cup providing 29% of the mineral's daily recommended intake. Magnesium is essential in maintaining healthy levels of glucose in the blood, and is used to manage conditions such as type II diabetes.
4. Boosts Immune System: These nuts are a good source of zinc that strengthens the immune system against infections. This mineral is also involved in protein synthesis and can reduce the appearance of scars caused by acne.
FDA Disclaimer: These statements have not been evaluated by the Food and Drug Administration. This product is not intended to diagnose, treat, cure, or prevent any disease